A couple of weeks ago, we thought to ourselves: what would we pick as "The Watch of the Decade"?
Innovation, novelty, technical marvel, cultural impact and overall feeling: these are the factors that we agreed on that we would base our decisions (and it would have to have been released between 2010-2020, obviously). So, without further ado, let's go through IWS's picks for THE watch of the Decade.
---
Konstantin Chaykin Joker
Complicated yet simple, but always fun: we present to you, the Konstantin Chaykin Joker. This is a watch for comic geeks and collectors alike, and one that you can wear whenever – not just for Halloween!
We've seen the standard configuration a couple of times before – we even wrote an article on it – and now the wider market has come to learn about it, too. However, what led me to choose this as my watch of the decade was the various configurations of the Joker that were made in line with milestones, events, novelties and ideas of today's society.
Before the Joker, no other timepiece made me think of "the '20s" (of the 2000s, that is) quite like Chaykin's masterpiece. What really makes me so fond of this watch, other than its inherent transformism (see the article!), which makes me feel like he can read our minds and is always a step ahead of us, it's the hilarity and fun-spiritedness with which it sits on our wrists.
It's a watch that makes fun of us, quite literally laughing in our faces, kind of like his maker. The Joker laughs on one hand because it (watches in general) are becoming increasingly redundant in this digital age, and on the other hand is laughing because what we need right now: a little bit of irony.
Andrea Casalegno
Editor-in-Chief
---
Hajime Asaoka Tsunami
Swiss? Nope, Japanese! A little thought-provoking joke to introduce this watch.
It calls into question our view on "Orient-made watches"; one which isn't the most favourable at the moment. Unfortunately, like many other products, watches made in Asia are often seen as being of inferior quality.
However, in the past few years, the Asian brands have gained traction and garnered Western market interest. This can be owed to the disassociation from "large brands" and "corporations", and now these watchmakers brand themselves as "independent" watch houses. This marketing move has proven itself successful. These independent houses are made up of expertly skilled horological artisans who produce extremely limited numbers of high-end timepieces, with an incredible attention to detail. In Switzerland, we have names such as Philippe Dufour, or the young up-and-coming wonderkid Rexhep Rexhepi with their "Akrivia" masterpiece. Instead, Japan's independent watchmaker movement is best represented by Grandmaster Hajime Asaoka.
Hajime Asaoka, born in Kanagawa in 1965, began his career as a designer when he founded the "Hajime Asaoka Design Office" in 1992. Just over 10 years later, in 2005, he switched gears to watchmaking, a discipline in which he was and is entirely self taught.
Today, I put forward my nomination for the watch of the decade: this creation belongs to the time-only "Tsunami" line. At first glance, this watch may appear quite straightforward and nothing out of the ordinary, but I can assure you that this is not the case: the level of attention to detail on this watch is extraordinarily complex.
The watch
Tsunami, which, from a design point of view takes a lot of inspiration from vintage canons, comes in a 37mm case, characterised by a harmonious surface finishing that alternates between polished and frosted.
The dial is the fruit of Asaoka's labour in the field of pad-printing, done entirely by hand by the man himself. One important feature to note is the "three-dimensional" effect that the numerals have and the overall finish. The dial is configured in a "two-tone" greyscale pattern, with radially alternating indices.
The hands of this watch are perhaps the most complex aspect of the dial-side of this watch. They are obtained by a meticulous process of mirco-milling. They are, you guessed it, completely hand finished by Hajime Asaoka himself.
The caliber is hands down the make-or-break aspect of an independent watch, and the Tsunami's does not disappoint. In terms of mechanical operation, surface finishing and overall aesthetics, this movement is second to none. Not only that, it is entirely "home made": constructed, assembled and hand finished by Hajime Asaoka himself.
You can add the Hajime Asaoka Tsunami to your collection for the price of €25,000. Hopefully this will change people's view "Made in Japan" watches!
Alessandro Metelli
Writer
---
Richard Mille RM056 Felipe Massa Tourbillon
Why did I choose a Richard Mille as the best watch in the past 10 years?
The RM056 is the first sapphire-encased watch to have garnered the interest of the wider public. Of course, I can go on all day about its aesthetics, but this is a watch that revolutionised the entire watch industry.
Just as I can go on for ages about its design, I can also talk about the to 1000+ man hours needed to make this piece, or perhaps the mind-bending technical difficulty it takes to form and finish the sapphire case, and the problems that its curvature causes, or about the screws and hundreds of other components that make this watch – but that would just make this confusing – we might just need an entire article on it alone.
This watch is a watchmaker's nightmare
It contains nearly every single thing that a brand would go out of their way to avoid. Astronomical production costs, very fragile end-product (which could lead to a very unhappy client if anything should happen to it), the list goes on. Yet, just as we watch and admire the work that Richard Mille does (particularly over these last 3 years), so do many other brands, many following in their footsteps.
This piece is representative of the evolution of a highly successful with a legend in the Formula 1 world – "the people's champ". The RM 056 Felipe Massa Tourbillon Split Seconds Competition Chronograph (that's a mouthful) belongs to only 5 lucky people in this world, with a (retail, Lord knows how much they must go for on the aftermarket) price of over $1.5 million USD.
Fabrizio Bonvicino
Co-Founder
---
Patek Philippe 5531R
They say that the only thing that is more difficult than reaching success, is maintaining it. Enter Patek Philippe: the maison reached the mountain top of success many years ago, and established themselves as the most important watch manufacturer of all time, both in terms of prestige and technical ability.
But, like every other watchmaker, Patek needs to bring something new to the table every single day to keep this title and reputation, not only to keep progressing the market, but also out of respect for all the hard work of those who got them there in the past. This task is far from trivial, given that nowadays, every single piece released by the brand is heavily scrutinised by collectors, enthusiasts and critics alike, who, do not hold back especially when it comes to watches of this caliber.
5531R Limited Edition for Patek Philippe's Art of Watches exhibition
In 2017, Patek Philippe hosted their Art of Watches exhibition in New York City. Alongside this event, they launched the 5531R line, limited to only 10 pieces. This line is split into two series, each with 5 exemplars. They are basically identical, except for their enamel dials: half of them depict the stunning Manhattan skyline by day, and the other half by night (above).
The 5531R brought yet another complication combination to Patek Philippe's already illustrious catalogue of complications, that is, the implementation of a minute repeater on a world timer.
In my opinion, the 5531R reflects Patek Philippe's desire to go back to its roots, after having released some pieces which didn't sit well with watch purists. This certainly helped them get back on track and reaffirm their status as the bar-setter when it comes to horological savoir-faire.
The catalogue version of the 5531R
Following the New York exclusive edition, Patek Philippe presented the catalogue version of the 5531R at the 2018 edition of Baselworld. Even though it wasn't nominally a "limited edition", they made so few of these per year given the enormous difficulty to hand work the enamel dial and movement.
The extraordinarily beautiful dial is made using the grand feu varnish technique, and depicts Laveaux's illustrations of lakeside life on the Genevese Lake which – amongst other things – is worthy of a UNESCO World Heritage endorsement.
R 27 HU caliber is a technical and design masterpiece: for a movement so complicated it only measures at a mind boggling 8.5mm thick.
The guilloché-finished case around the borders and lugs only add to the unique appeal of this timepiece, which draws inspiration from the legendary ref. 2523 HU from the 1950s.
The perfect pairing of artisanal mastery with modern technology is what allows this piece to transcend the definition of a complicated watch. In fact, the 5531R is a really good example of traditional design philosophies and mechanical innovation not only coexisting, but working in harmony, proving that they aren't mutually exclusive. This is something that I think many of the long-standing watchmakers need to understand.
Lorenzo Rabbiosi
Writer
---
Romain Gauthier Logical One
Last week, when our Editor-in-Chief @iamcasa asked the IWS team to pick our favourite watch of the decade, I must confess, I needed a couple of days to properly reflect on my choice. Picking just one is certainly not an easy task.
Then, it became clear to me, so today I would like to propose Romain Gauthier's most prized creation. If you love watches and this name doesn't ring a bell, then we'll fix that straight away. The brand, launched in 2005 by Romain himself, takes a dual approach on horology: one eye on the past, and one eye on the future. With just over 50 pieces produced per year, each and every one of these watches (inkeeping with the duality of the design mantra) made by the micro-brand, has two personalities: technologically innovative on one hand, and indulgent yet meticulous on the other.
The Logical One is the perfect embodiment of this duality
It is simultaneously extremely complex and simple, because, at the end of the day, it just tells the time. Its intriguing industrial movement is successfully contrasted by the sophisticated grand feu enamel dial which just begs to be stared at for days. The ultra-light titanium case is complimented by the ingenious chain-driven movement which is straight out of a different era.
The details on this timepiece are simply unique. Each and every component has been carefully thought out and with extreme attention to detail, sometimes even too much. Take the fusée-chain for instance: at first glance it gives a rugged, industrial appearance, but upon a closer look, its links are actually made out of rubies, which removes any need for lubrication of the constantly worked chain mechanism.
When it's on your wrist you fully understand how watchmaking heritage and state-of-the-art innovation live in perfect harmony; so natural and spontaeous that you can't believe that it's man-made.
Claudio Freccia
Junior Social Media Manager and Writer
---
Rolex Sky Dweller
Being both a vintage and history enthusiast, I like to learn from the mistakes of the past to find the bargains of tomorrow.
Looking at old 70s ads, you can find jewellery stores saying "We buy Rolex, NO DAYTONA". I bet that if any of us had a chance to go back in time, even for just an hour, we wouldn't come back without at least a handful of Daytonas: 6264, 6239, 6265… you name it!
Sometimes, the most sought-after watches of today, are those that didn't have much luck when originally released, and thus were discontinued after pretty short production lives. This is what makes them fetch between €50,000 to millions of Euros at auctions.
Following this strategy, I asked myself if there were any current models out there not having this luck, which may face a similar path.
One of the least desired models of today is the Rolex Sky Dweller, in all its references.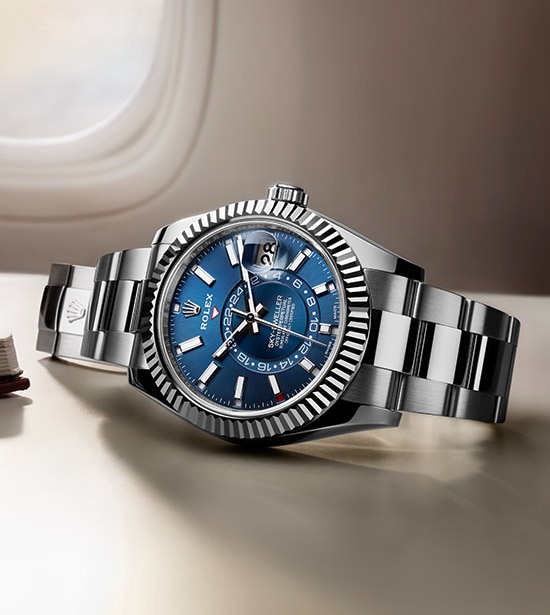 The most complicated Rolex
I think that this piece is simply amazing: introduced in 2012, it's the most complicated Rolex ever, with an annual calendar and a second time zone – all without a single pusher.
This astonishing mechanism is operated by the combination of crown and bezel positions, that can be rotated to enter different setting mode.
The system, named "Ring Command", is a micromechanical masterpiece comprising of over 50 gears.
The date is presented in classic Rolex fashion, with the cyclops lens at 3, while the month is cleverly hidden behind the hour indicies, in a little window that turns red as the months progress. For example, in March – the third month – the red square appears at 3.
It's a superb looking watch, and an incredibly complicated one that the public has not yet realized that it marks a hugely significant milestone in Rolex's technological achievements. I'm convinced that it's destined for something big and thus also represents a great investment.
As you wait for the market to finally understand its exceptional nature, you have the opportunity to make it yours from €14,200. Fairly reasonable, if you ask me.
Don't make me say "I told you so!"
Lorenzo Spolaor
Writer and Translator
---
Jaquet Droz The Charming Bird
At first glance, this bulky watch may look like a plain and unreasonably expensive toy for your wrist, but this is far from the case.
If you take a closer look, and are given proper context, you will discover a whole mix of history and technological marvel which, in my opinion, is a perfect testament to the immense cultural significance and engineering expertise of Swiss watchmaking.
Pierre Jaquet-Droz was one of the pioneers of Swiss watchmaking, who, during the 1700s, invented some of the most brilliant mechanical masterpieces in history.
His strong suit was the creation of timepieces and all sorts of autonomous mechanical devices, taking many different shapes and sizes, encased in the most peculiar of objects.
Some of his most famous inventions were the tobacco boxes in which an intenal mechanism resided. Once activated, this mechanism would make a mechanical bird move and chirp about – all this was not battery operated.
This watch, first presented in 2013, is the modern embodiment of this concept and ideology: mechanical excellence for the heck of it.
A principle which, in my opinion has been overshadowed by modern complications such as the Tourbillon, Minute Repeater, etc….
On this, I would like to point out that this autonomous device serves no useful pupose at all: it's purely aesthetic. The hefty 47mm case is made from white gold and features a rounded sapphire with a bulgy dome at the 6 o'clock position.
Sitting inside this case is a beautiful hand-painted Blue Tit, that is, until the crown pusher at the 2 o'clock position is pressed: then, the bird springs to life, flapping its wings and its beak chirping away, as if a real one was right in fron of you. This recreation of the Tit's tweet is made possible by a series of pistons which, as they move quickly back and forth, their harmonics perfectly reproduce the bird's call.
Now owned by the Swatch Group, the Jaquet Droz maison has created many of this mechanical marvels, but The Charming Bird is, at least for me, best embodies the values of haute horology and autonomous excellence, preserved over the course of three centuries.
Giulio Minetto
Writer
---
Bvlgari Octo Finissimo
The story of this masterpiece, which is destined to stay in the spotlight for a a long time, begins in 2014. Envisioned by the extraordinarily talented Fabrizio Buonamassa Stigliani, Bulgari created a unique timepiece: one that had never been seen before.
In 2014, watch fanatics worldwide were in awe at Bulgari's release, not only for its design, but for the engineering mastery that came with it. The name? The Octo Finissimo Tourbillon: a stunning watch, with a manually -wound movement measuring just 1.95mm thick.
Over the years, the Finissimo line has grown with multiple iterations, with one peculiar model: the 2017 Octo Finissimo Automatic.
This is a futuristic model that represents a real turning point in modern watchmaking, a world which seems to still cling onto the great successes of the past and afraid to progress and innovate.
The Octo Finissimo Automatic comes in a 40mm case, and has a total thickness of 5.15mm.
The case is made from titanium – a very durable yet valuable and refined material, and it houses the ultra-thin automatic movement (2.23mm), created in-house by Bulgari. It guarantees 55 hours of power reserve and is equipped with a platinum micro rotor which, with its specific weight, allows excellent performance despite its small size.
I think this is the Watch of the Decade because Bulgari totally broke the mould and created something completely new, giving the watch world a much needed breath of fresh air. Thanks to its lines and materials, it is wearable on many occasions: the titanium makes it a perfect example of a sports watch, but at the same time the colors and its incredible subtlety make it appropriate for even the most formal of occasions.
Enrico Lanteri
Writer
---
Rolex Cosmograph Daytona "Rainbow"
A lot of people simply love to hate this watch. I'll start off by saying that while I don't actively get anything out of criticising this piece, I think it's straight up one of the most obnoxious things I have ever seen.
Nowadays, that's considered an "unpopular opinion" as this watch is globally beloved. Yet, when the latest version of the crowned chronograph was released two years ago, that was the general consensus: nearly the entire market was put off by the gaudy flamboyance of a rose gold, diamond-set, multicoloured sapphire-bezelled piece, particularly Daytona enthusiasts.
Culturally and historically, these purists see this as the antithesis of the Daytona: it is so far off from what it should be, in that it's meant to be a hyper-masculine, "strong" tool watch that was made for racing, and they have a point.
Or do they?
This isn't the first time that we've seen a blinged-out Daytona. The 2018 Everose version follows similar releases from 2012 in white and yellow gold, but even before then, we had obscene Daytonas: the 6270. As far as numbers go, it's hard to say for certain, but it's believed that there less than 8 in existence. So, why are these considered "icons", whereas the modern ones receive so much hate?
The 2012 and 2018 Rainbow Daytonas are very off-putting because they aren't aligned with the common perception of Rolex's identity. But Rolex is a very complex brand, and it is preceisely this complexity that makes it something worth reading more about. In fact, you'll find that throughout their history, there are a lot of outlier watches that just don't make sense – we might even have to write a whole other article on these – but this is the nature of horology.
In an interview with Hodinkee, John Mayer had a really unique and thought-provoking take on this piece.
He said:
"When these first came out, everybody thought they were too much. The attitude towards a Rainbow Daytona was 'yuck, who would do that? ' And then, something brilliant happened, whereby the joy of collecting superceded the craziness of the design", adding, "I believe that if you are a big enough enthusiast of Rolex, and that you can understand (…) the rarity of the thought behind creating the piece, you can absolutely wear the watch as a true collector".
You know a watch is special when Rolex's top of the range, COSC Chronometer Certified chronograph caliber 4130 isn't what makes it important, because manufacturing this watch is a mammoth task: all the baguette-cut gemstones, both for the bezel and hour markers, need to be of a very specific colour and purity (Internally Flawless – IF) which can only come from rare natural resources, and cannot be artificially manufactured. The result is an (at first gaudy) incredible rainbow gradient effect with subtle progressions from one sapphire to the next.
Influential
This watch (and its 2012 versions) had such a profound effect that celebrity aftermarket jewellers were taking plain Daytonas and trying to recreate the "Rainbow" effect, but they don't even come close to Rolex's craftsmanship. Speaking of celebrities, this watch isn't short of their endorsements: Post Malone, John Mayer, Kevin Hart, Antoine Griezmann, Anthony Davis, Adam Levine, Miley Cyrus and Mark Wahlberg are just a few famous figures who have worn the multicoloured chronograph.
In terms of their aftermarket value, the extremely limited Rainbow Daytonas have been known to reach three times their original retail price, with sales reaching $395,000 USD.
I've chosen the Rainbow Daytona as my Watch of the Decade (heck, even maybe of the century) because I have never come across a timepiece that sparks such heated, in-depth and engaging conversations and that has had a pop-cultural impact quite like this one. Oh, and I still dislike it.
Patrick Romano
Writer and Translator
---
Well, there you have it, folks. These were our picks for Watch of the Decade. Agree? Disagree? Did you see any of your favourite pieces, or did we miss some? Let us know in the comments below!