"A master engraver, a master enamel, Richard Mille, and Pharrell Williams are in the same room…" It may seem like the beginning of a joke, but if it really happens that you meet wisdom, mastery, talent and creativity as in this case, what can born?
Luckily it really happened, and so we have the answer: the Richard Mille RM 52-05 Tourbillon Manual Winding Pharrell Williams.
This is where we'd like to start exploring the watch collection of one of the most influencial artists..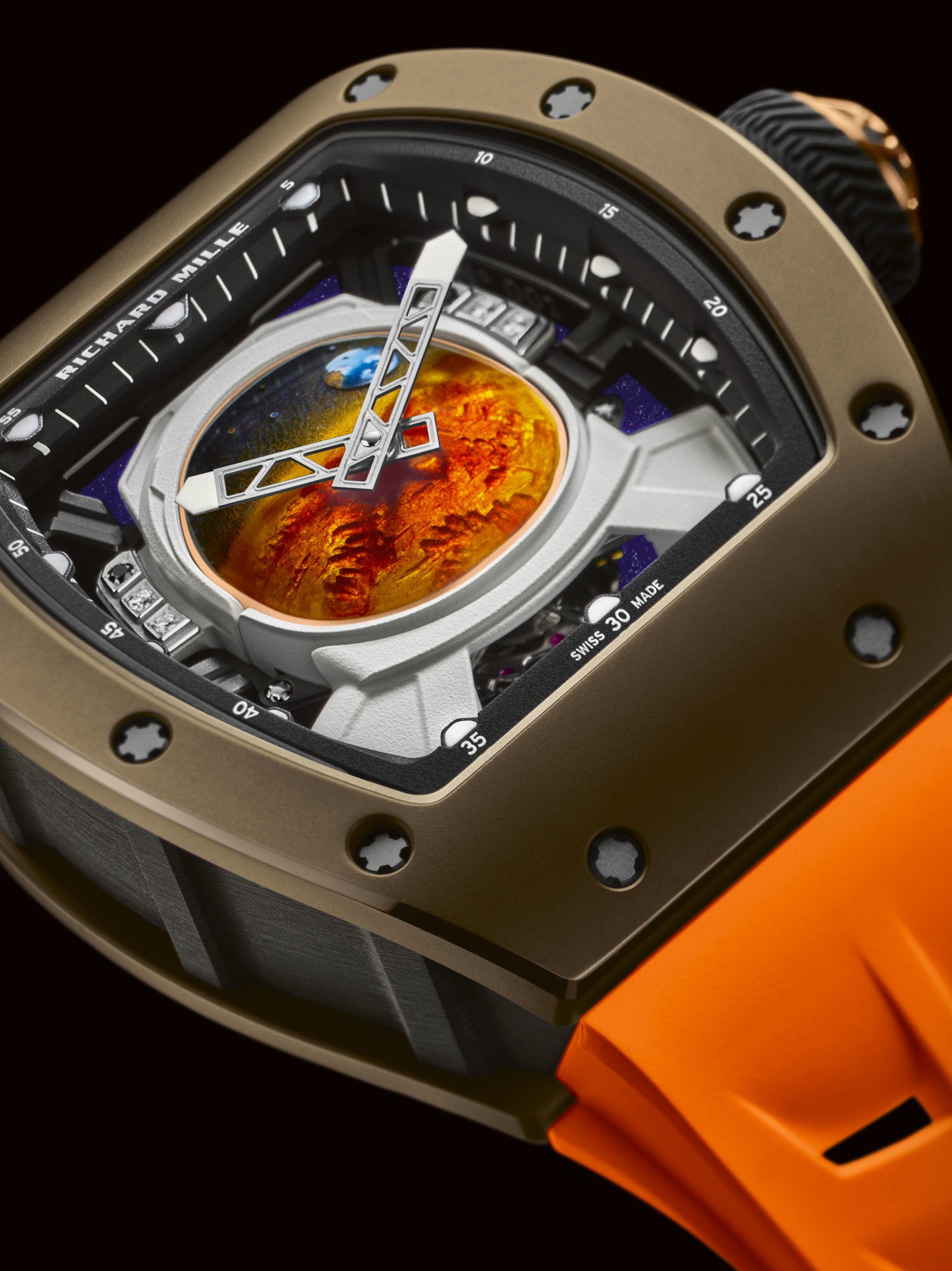 ---
The origins
The origins of this watch go far back in time, perhaps even millions of years, when man looked up and stared at stars, planets, distant worlds, searching for an explanation for its own existence.
If we don't want to go that far back in time, we can move just a bit to when little Pharrell Williams looked fascinated at Star Trek and dreamed of traveling into space, to see the Earth from afar.
He certainly toured all over the Globe, making the whole world sing and smile in his colorful concerts.
But it is not enough for Pharrell, who with this watch fulfills dream of a lifetime: to look at the Earth from Mars.
---
The watch
As in a real spaceship, suspended between the ultra-light titanium-aluminum-vanadium bridges, we find an astronaut admiring our planet from Mars. We understand it from the reflection in the visor, suspended in the infinity of a starry space of blue adventurine.
The variable inertia spring allows us, via 4 screws, to adjust the oscillations with an accuracy worthy of NASA standards.
To protect this masterpiece, Richard Mille decided to realize 8 pieces with sapphire case and 22 in Cermet. This last one is a combination of zirconium and ceramic, able to withstand any environment, terrestrial and not.
As with a space probe, no ordinary instruments are used to create this piece. Richard Mille's artisans had to develop special tools to engrave the visor, then enamel it with grand-feu technique and only in the end paint it by hand.
The engraving engaged a craftsman for about 15 hours, enameling for a whole day.
---
A long-lasting relationship
The relationship between Pharrell Williams and Richard Mille has been very close for several years. It is probably due to the similar vision that the two artists share towards the world and style.
In the best tradition of ItalianWatchSpotter, we brought you a selection of the rarest and most interesting pieces that appeared on the singer's wrist.
RM 031
Nominated for Best Soundtrack at the 2017 Golden Globes, Pharrel Williams shown up at the ceremony with a Richard Mille RM 031 High Performance.
Absolutely nowhere to be found, the price for this ultra-limited edition (10 pieces) from 2012 was 1.129.500€,including VAT.
---
RM 70-01
Designed for Formula 1 champion Alain Prost and his passion for the bike, this Richard Mille RM 70-01 is perfectly both at home and on the catwalks of Paris Fashion Week.
It is equipped with a mechanical odometer on the upper part of the dial. We do not exclude that Pharrell may have used it to count the numerous parades he attends…
The lucky 30 who were able to access Richard Mille's lists had to face a price tag of 815.500$ to bring one home. Such a price was sweetened by a Colnago C60 race bike especially developed by Prost and Mille.
---
RM 25-01
As you may remember, in the past we have already spotted Pharrell Williams on our Instagram page.
We want to remind our own post in which we can see the American singer in the company of Kaws while wearing a Richard Mille RM 25-01 "Tourbillon Adventure Sylvester Stallone".
Again, the very limited price tag indicates a whopping 965.630 €.
---
RM 011 NTPT Lotus F1 R. Grosejan
Designed for the pilot Romain Grosejan, this flyback chronograph isn't on F1 tracks now, but it surely ended on a champion's wrist.
Created and produced for the F1 champion, this Richard Mille is worn today by Pharrell Williams, even if we don't know how…
---
The other watches
Apart from Richard Mille, Pharrell Williams had some other toys in his life. Let's see some together!
Audemars Piguet Royal Oak Concept Alacrite
The first Royal Oak of the Concept series couldn't be missed by Pharrell.
It is the Audemars Piguet Royal Oak Concept Alacrite, a Tourbillon with power reserve, function indicator and dynamograph. This is the piece that paved the way for this amazing collection.
The price, today, is around 170.000€.
Audemars Piguet Royal Oak Concept Carbon
In this pic we can see the singer with a very peculiar Audemars Piguet. It is the Royal Oak Concept Carbon.
It isn't casual that very often the design of this pieces is done by the same people behind Richard Mille timepieces, and perhaps that's why Pharrell likes it.
It is ref. 26265FO.OO.D002CR.01, a tourbillon chronograph with a market price above 160.000€.
---
Audemars Piguet Royal Oak Perpetual Calendar Skeletonized
Pharrell Williams doesn't like to choose, and that's why he got them both. We are talking about two masterpieces, both perpetual calendars, one in yellow gold and one in platinum. Both skeletonized as the black ceramic of 2019.
We are around a 100.000€ market price, but the real big deal is choosing "just" one.
---
Jacob & Co Rainbow Tourbillon Rubies
Unique piece, of which so few infos are available. This tourbillon features 4 timezones and it's literally covered in rubies baguette cut.
For something that special we shouldn't be afraid of a rough 500.000€.
---
Jacob & Co Five Timezone diamonds pavé
An icon in hip-hop culture, this one shouldn't be missing in a strong rapper's collection, such as Pharrell. THIS Jacob&Co shows on the dial 5 timezones, considering the hands. The difference between Pharrell's piece and the one pictured? The pavé diamonds set…
---
We could guess with this quick peek at his collection that Pharrell is used to sky-high pieces (… and prices!) , and we are very happy that he was finally able to get closer to the stars he always dreamed of with the release of his new model.
What do you think? Are you willing to pay almost a million euros to see Pharrell Williams' point-of-view in the dial of the all-new Richard Mille RM 52-05 or would you rather wait for space travel to become routine?
Let us know in the comments!
Written by Lorenzo S. and Andrea C.