Nowadays, in many sporting events, from football to Formula 1, Hublot's name and famous "H" logo seems to be everywhere you look. In this article, we'll tell you the story of this relatively young Italian watch brand.
---
Foundation
Like I just said, Hublot is somewhat of a newcomer in the grander context of the watch world. The watchmaker was founded in 1976, when Carlo Crocco decided to leave his former employer – the famous jewellery and horology brand Binda (who, by the way, own other brands like Breil and Wyler Vetta), and go it alone in the industry.
Right from the onset, Crocco's objective was originality: to create something unique, something that did not abide by the traditional schemes and rules of classical horology. His first step? He moved to Switzerland and set up the MDM brand – the "original" name for the watch group. Crocco's taste and vision was undeniably tied to the nautical world and to the yachts of Monaco. These French riveria ties very likely led to the change in name, to a derivative of the French word "oblò"
This new name made its debut four years later, at the 1980 edition of Baselworld, but wasn't as successful as Crocco had hoped.
That all changed very quickly though, thanks to high profile co-signs: with the likes of Princess Carolina of Monaco and King Juan Carlos of Spain sporting Hublot watches on their wrists, the wider public took notice. Hublot capitalised on this newfound attention and released a totally new feature in the market: a luxury sportswatch with a rubber strap. Oysterflex? Nope, Hublot did it way before Rolex. In fact, this all-natural rubber material – mixed with vanilla extract aroma – is still one of the brand's unique selling points.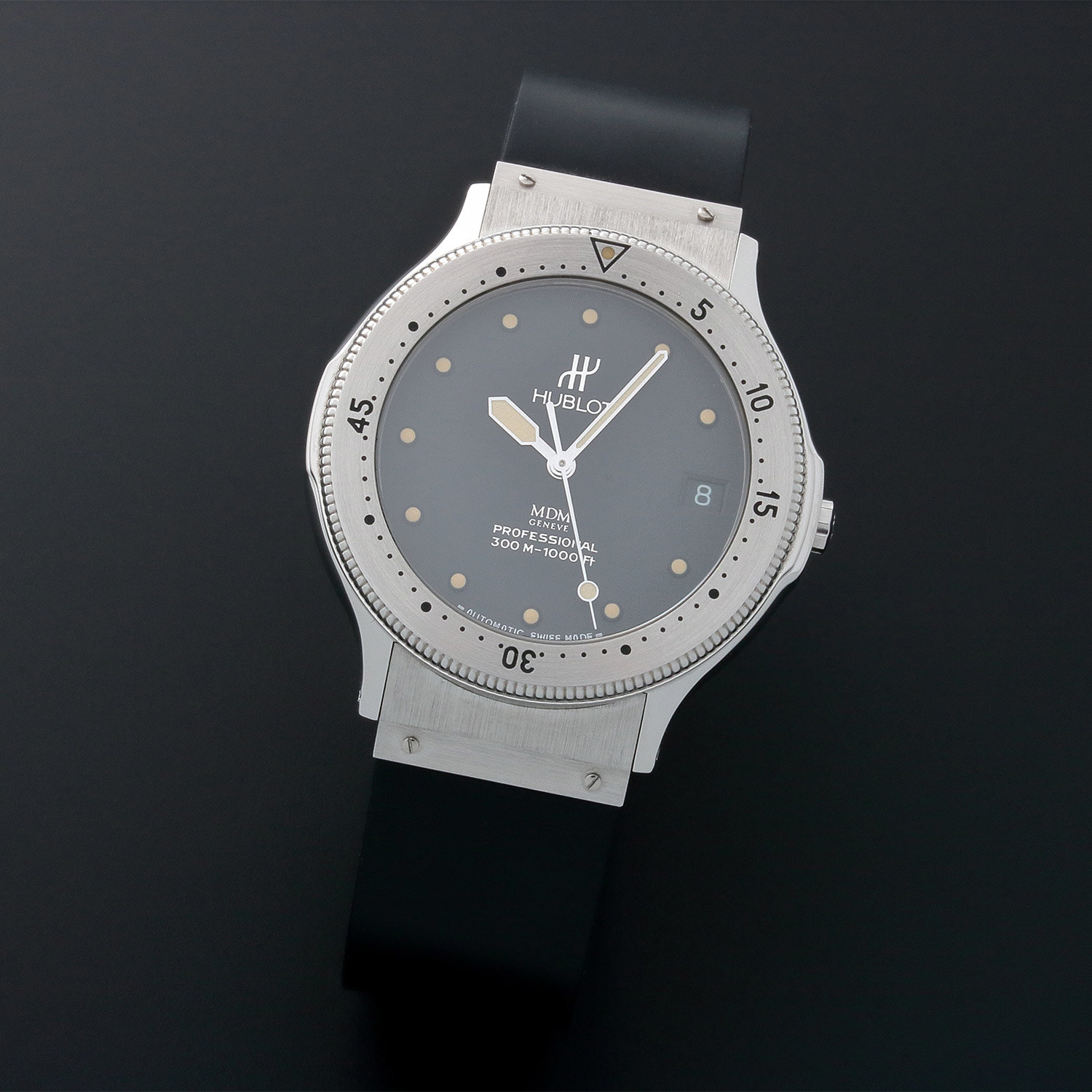 ---
The Biver Era
Over time, Crocco became increasingly entrusted with more and more responsibilities. As the brand grew, so did their productivity and their need for oversight in research and development for new models. Paired with his increasingly imporant role in the charitable organisation Hand-In-Hand, Crocco decided it was time to look for someone suitable who could take the Hublot helm.
In May 2004, Hublot found their successor: Jean Claude Biver, who left his post as President of the Omega Division of the Swatch Group, and became Hublot's CEO. From that point on, the Genèvese watchmaker adopted a production strategy which focused very heavily on marketing and advertising. Some of the first releases under Biver's direction were the Big Bang Chronographs, which earned themselves many prizes and awards in 2005, including the Design Prize at the Grand Prix d'Horlogerie de Genève. These recognitions massively boosted Hublot's sales, and in 2007, they opened their first boutique in Paris.
Transfer of ownership to LVMH
A few years after Biver took on the role of CEO, the watch brand was bought by the luxury conglomerate LVMH Group, headed by Bernard Arnault and his family. This sale did not discard the marketing-focused vision of the brand, though: in fact, it strengthened it! The brand grew more and more, with boutiques opening up everywhere. By 2011, Hublot had around 650 places which were authorised to sell their product and 40 exclusive boutiques. This increased visibility played perfectly in Hublot's favour as they could now truly make their mark in terms of personal branding. Amongst the first "Official Timer" or "Official Watch Partner" campaigns were those in Formula 1, international football organisations and even fashion events.
Hublot & Ferrari – a 100% Italian Affair
One of our favourite Hublot collaborations is the one with Scuderia Ferrari, which we actually talked about in this article here!
The name of the game for this collaboration and collection was innovation and performance. Both companies worked side by side to innovate and to find performance-driven solutions through research and experimentation of new materials and composite/alloy design. The most coveted final products were the 3 different versions of the Big Bang Scuderia Ferrrari 90° Anniversary, presented in platinum, carbon or sapphire case configurations. Again, you can read all about them in this article.
---
Classic Fusion
Another iconic collection in the Hublot portofolio is the Classic Fusion: a "simple" yet very elegant and recognisable sportswatch. It may be "simple" in its design, but the geometrical and angular features around the lugs are quite remarkable. The collection ranges from a time-and-date configuration, all the way to a chronograph function and moon-phases. This model also saw various collaborations, like the one with renowned sculptor Orlinski (which we talked about here), and that with the Berluti clothing brand.
In closing, although it's had several owners, Hublot has remained faithful to the original ideals of founder Carlo Crocco, who, in typical Italian fashion, strived to go against the grain, pushing their own limits in order to create something totally new and original. Hublot is definitely manifesting these ideals thorugh their research and innovation in case material. In my opinion, these technical innovations could be perfectly complimented by an increased focus on unique case design, that way making them just that bit more remarkable.
---
-Translated by Patrick R.